Ford Focus Service Manual: Adhesives - Description and Operation
Material
| Item | Specification |
| --- | --- |
| Metal Bonding Adhesive TA-1 | — |
| Motorcraft Metal Surface Prep ZC-31-A | — |
| Plastic Bonding Adhesive TA-9 | — |
| Trim and Weatherstrip Adhesive TA-14-A | — |

WARNING: Wear eye
and ear protection when servicing a vehicle. Failure to follow this instruction may result in serious personal injury.

WARNING: Always
refer to Material Safety Data Sheet (MSDS) when handling chemicals and wear protective equipment as directed. Examples may include but are not limited to respirators and chemically resistant gloves. Failure to follow these instructions may result in serious personal injury.
Adhesives are used in a variety of applications. Typical uses for adhesives include roof panels, door skins and quarter panels. Trim applications include body side mouldings, emblems, stationary glass and weatherstripping. Combination sealer/adhesives are also used. Surface preparation is critical to a high quality repair. Following the label instructions for the product is essential.
Work in a well-ventilated area and protect adjacent surfaces when working with adhesives. Carry out a trial fit, mark and align the surfaces before bonding the materials together.
Seam sealers and corrosion protection may be necessary once the adhesive(s) has cured, depending on the application. The following is a list of adhesives recommended for certain types of applications:
Metal Bonding Adhesive — For bonding cold-rolled steel, galvanized steel, aluminum and correctly prepared E-coat. It is used for door skin and roof panel replacement and OEM structural adhesive replacement.
Plastic Bonding Adhesive — For bonding a variety of plastics to plastics and plastics to primed, painted or E-coated metals. Also for general purpose bonding of trim components.
Trim and Weatherstrip Adhesive — For use on body side moulding, emblems, trim, bumper impact strips and carpeting.
Structural Adhesive
NOTE:
Ford Motor Company does not approve or recognize structural repair procedures using anything but genuine Ford parts.
Structural repairs (frames, rails, aprons and body panels) carried out using other than Ford Motor Company parts have not been tested. In addition, structural equivalence and corrosion protection cannot be assured. Returning a vehicle to pre-accident condition can only be assured if repair procedures are carried out by skilled technicians using genuine Ford Motor Company parts and approved methods. Structural component repair procedures approved by Ford using genuine parts have been validated through testing by Ford Motor Company engineers. Should alternative structural component repair procedures and/or parts be used, repairers should be aware of the potential liability they incur.
NOTE:
Corrosion protection needs to be restored whenever it is necessary to sand or grind through painted surfaces or E-coat, or when bare metal repairs are made.
NOTE:
Factory spot welds may be substituted with either resistance spot welds or Metal Inert Gas (MIG) plug welds. Spot/plug welds should equal factory welds in both location and quantity. Do not place a new spot weld directly over an original weld location. Plug weld hole should equal 8 mm (0.31 in) diameter.
NOTE:
The following illustrations identify structural adhesive locations.
Wheelhouse Inner to Quarter Panel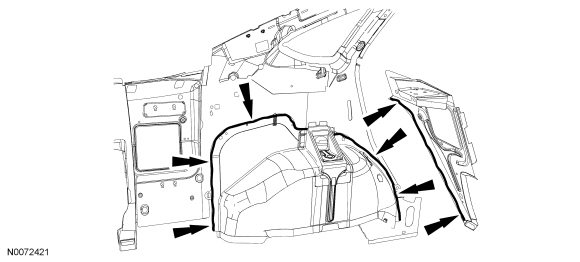 Front Rail
NOTE:
LH view shown.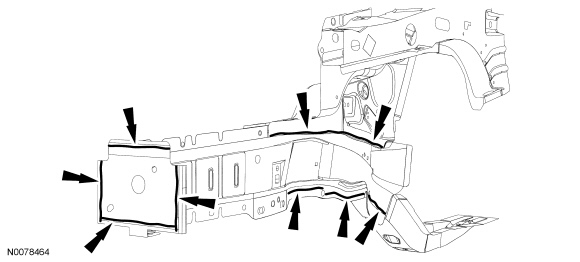 Dash Panel
NOTE:
LH engine compartment view shown.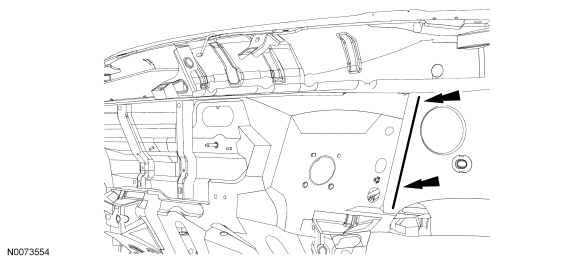 Cowl Side to Body Side Outer
NOTE:
LH view shown.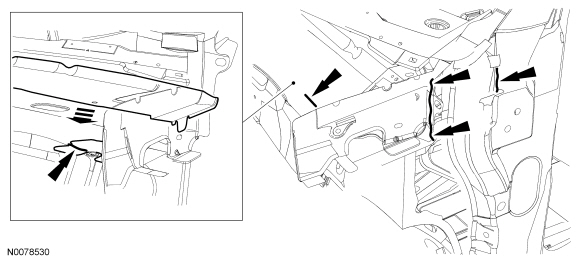 Rear Rail to Rear Floor Pan
NOTE:
LH view shown.
Package Tray