Ford Focus Service Manual: Brake Fluid Reservoir
Material
| Item | Specification |
| --- | --- |
| High Performance DOT 3 Motor Vehicle Brake Fluid PM-1-C (US); CPM-1-C (Canada) | WSS-M6C62-A or WSS-M6C65-A1 |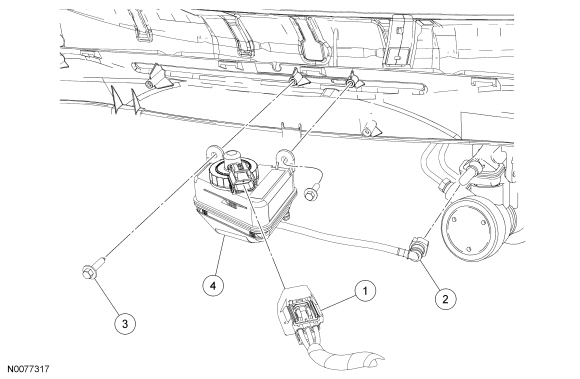 | Item | Part Number | Description |
| --- | --- | --- |
| 1 | — | Brake fluid reservoir filler cap electrical connector (part of 14290) |
| 2 | — | Brake fluid reservoir-to-master cylinder tube (part of 2K478) |
| 3 | W704310 | Brake fluid reservoir bolt (2 required) |
| 4 | 2K478 | Brake fluid reservoir |
Removal and Installation
All vehicles

WARNING: Do not
use any fluid other than clean brake fluid meeting manufacturer's specification. Additionally, do not use brake fluid that has been previously drained. Following these instructions will help prevent system contamination, brake component damage and the risk of serious personal injury.

WARNING: Carefully
read cautionary information on product label. For EMERGENCY MEDICAL INFORMATION seek medical advice. In the USA or Canada on Ford/Motorcraft products call: 1-800-959-3673. For additional information, consult the product Material Safety Data Sheet (MSDS) if available. Failure to follow these instructions may result in serious personal injury.
NOTICE: Brake fluid is harmful to painted and plastic surfaces. If brake fluid is spilled onto a painted or plastic surface, immediately wash it with water.
Disconnect the electrical connector from the brake fluid reservoir filler cap.
Remove the 2 brake fluid reservoir bolts.
Loosen the Battery Junction Box (BJB) mounting screw.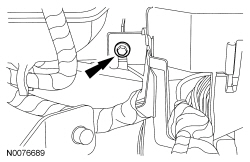 Disconnect the BJB from the bracket and position aside.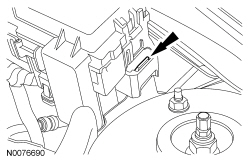 NOTE:

Cap the hose connections to prevent fluid loss.

Disconnect the brake fluid reservoir-to-master cylinder tube.
Vehicles with manual transaxle
Disconnect the clutch master cylinder feed tube.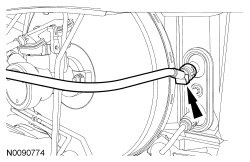 All vehicles
Remove the brake fluid reservoir.
To install, reverse the removal procedure.

Bleed the brake system. For additional information, refer to Section 206-00.
Vehicles with manual transaxle
Bleed the hydraulic clutch system. For additional information, refer to Section 308-00.
Item Part Number Description 1 2L523 Booster rod-to-pedal pin 2 W520212 Brake booster nut (4 required) 3 2005 Brake booster ...
Material Item Specification High Performance DOT 3 Motor Vehicle Brake Fluid PM-1-C (US); CPM-1-C (Canada) WSS-M6C62-A or WSS-M6C65-A1 Item ...
More about Ford Focus:
Ford Focus General information
WARNINGS: Use load securing straps to an approved standard, e.g. DIN. Make sure that you secure all loose items properly. Place luggage and other loads as low and as far forward as possible within the luggage or loadspace. Do not drive with the tailgate or rear door open. Exhaust fu ...