Ford Focus Service Manual: Cylinder Head Distortion
Special Tool(s)


Feeler Gauge Set
303-D027 (D81L-4201-A) or equivalent
NOTE:
Refer to the appropriate Section 303-01 for the specification.
NOTE:

Make sure all cylinder head surfaces are clear of any gasket material, silicone sealant, oil and coolant. The cylinder head surface must be clean and dry before running a flatness check.

NOTE:

Use a Straightedge that is calibrated by the manufacturer to be flat within 0.005 mm (0.0002 in) per running foot of length, such as Snap-On® GA438A or equivalent. For example, if the Straightedge is 61 cm (24 in) long, the machined edge must be flat within 0.010 mm (0.0004 in) from end to end.

Using a Straightedge and a Feeler Gauge Set, inspect the cylinder head for flatness in the sequence shown.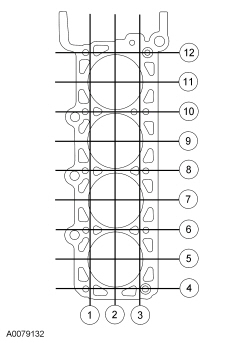 Special Tool(s) Alignment Plate, Camshaft 303-465 (T94P-6256-CH) Engine Support Bar 303-F072 Material Item Specification ...
Item Part Number Description 1 9H589 Cylinder Head Temperature (CHT) sensor electrical connector 2 12A674 CHT sensor Removal and Inst ...
More about Ford Focus:
Ford Focus External Controls
The manual transaxle external controls consists of the following: Gearshift cables shift cable selector cable Gearshift lever Gearshift lever knob and boot The manual transaxle is controlled by a floor-mounted gearshift lever located in the floor console. Conne ...