Ford Focus Service Manual: Door Glass Top Run - Rear
Material
Item
Specification
Seam Sealer
TA-2
—
Removal and Installation
Remove the rear door speaker. For additional information, refer to Section 415-00.
NOTE:

Do not touch the adhesive surface during removal or installation of the watershield, as re-bonding will be impaired. If additional adhesive is required during installation, apply seam sealer as necessary to completely seal the watershield to the inner door.

Remove the watershield.
Temporarily install the window control switch or the window regulator handle to raise or lower the window to align the regulator clamp with the access hole.
Push out the pin and then push out the sleeve of the 2-part spacer.
Supporting the glass, lower the glass and regulator to the lowest position.
Remove the door glass top run.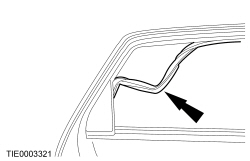 To install, reverse the removal procedure.
Removal and Installation Remove the front door window glass. For additional information, refer to Window Glass — Front Door in this section. Remove the front door sail panel. For addi ...
More about Ford Focus:
Ford Focus Roof Opening Panel - Description and Operation
The roof opening panel consists of the following components: Air deflector Roof opening panel control switch Roof opening panel drain hoses Roof opening panel frame Roof opening panel glass Roof opening panel motor Roof opening panel shield Roof opening panel weatherstrip ...