Ford Focus Owners Manual: Fuel filler flap
WARNINGS:
Take care when refuelling to avoid spilling any residual fuel from the fuel nozzle.
Do not use any kind of flames or heat near the fuel system. The fuel system is under pressure. There is a risk of injury if the fuel system is leaking.
CAUTION:
If you use a high pressure spray to wash your vehicle, only spray the fuel filler flap briefly from a distance not less than 20 centimetres (8 inches).
Press the flap to open it. Open the flap fully until it engages.
When you insert the fuel nozzle, a spring loaded inhibitor will open if the correct size nozzle is detected. This will prevent filling up with the wrong fuel.
WARNING:
Stop refuelling after the fuel nozzle stops the second time. Additional fuel will fill the expansion space in the fuel tank which could lead to fuel overflowing. Fuel spillage could be hazardous to other road users.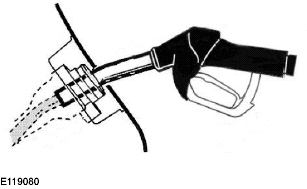 Insert the fuel nozzle up to and including the first notch on the nozzle. Keep it resting on the cover of the fuel pipe opening.
WARNING:
We recommend that you wait at least 10 seconds before removing the fuel nozzle to allow any residual fuel to drain into the fuel tank.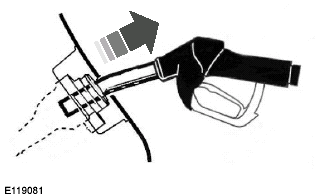 Slightly raise the fuel nozzle to remove it.
A funnel is located in the glove box. Use this when refilling with a fuel can.