Ford Focus Owners Manual: Heated windows and mirrors
Heated windows
Use the heated windows to defrost or demist the windscreen or rear window.
Note: The heated windows operate only when the engine is running.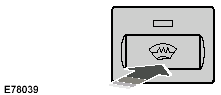 Heated windscreen
Note: Also defrosts the front washer jets.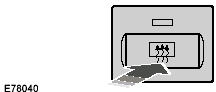 Heated rear window
Heated exterior mirrors
Electric exterior mirrors are fitted with a heating element that will defrost or demist the mirror glass. They will switch on automatically when you switch the heated rear window on.