Ford Focus Service Manual: Latch Lubrication
Material
| Item | Specification |
| --- | --- |
| Multi-Purpose Grease XG-4 and/or XL-5, or equivalents | ESB-M1C93-B |
Open the door.
Using a screwdriver, fully close the latch (2 clicks).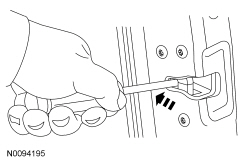 Spray the multi-purpose grease into the opening on the door latch for approximately 5 seconds.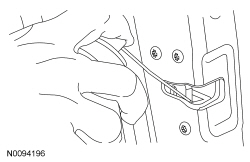 Open the latch using either the interior or exterior door handle.
Open and close the door several times to circulate the lubricant inside the latch.
Wipe off any excess grease.
NOTE: The Smart Junction Box (SJB) is also known as the Generic Electronic Module (GEM) . Hood Latch The hood latch consists of the following components: Hood latch release handle and cable ...
With the ignition switch in the OFF position, press the LOCK and UNLOCK buttons on the Remote Keyless Entry (RKE) transmitter simultaneously for 4 seconds. The turn signals flash twice to ...
More about Ford Focus:
Ford Focus Power Steering Pump
Special Tool(s) Installer Set, Teflon® Seal 211-D027 (D90P-3517-A) Material Item Specification MERCON® V Automatic Transmission Fluid XT-5-QM (or XT-5-QMC) (US); CXT-5-LM12 (Canada) MERCON® V Item Par ...