Ford Focus Service Manual: Rear Suspension Stabilizer Bar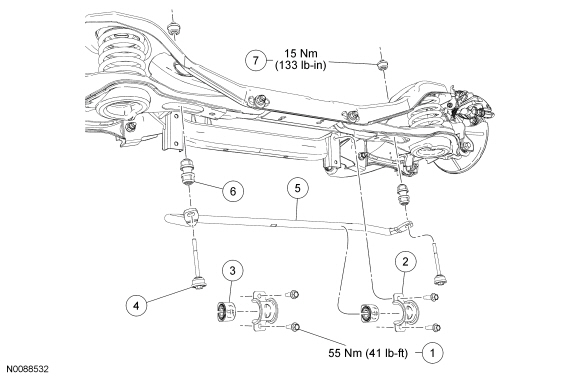 | Item | Part Number | Description |
| --- | --- | --- |
| 1 | W710903 | Stabilizer bar bracket bolt (4 required) |
| 2 | 5B484 | Stabilizer bar bracket (2 required) |
| 3 | 4A037 | Stabilizer bar bushing (2 required) |
| 4 | 5495 | Stabilizer bar link (2 required) |
| 5 | 5A772 | Stabilizer bar |
| 6 | 5776 | Link spacer (2 required) |
| 7 | 5C491 | Stabilizer bar link nut and bushing (2 required) |
Removal
NOTICE: Suspension fasteners are critical parts because they affect performance of vital components and systems and their failure may result in major service expense. New parts must be installed with the same part numbers or equivalent part, if replacement is necessary. Do not use a replacement part of lesser quality or substitute design. Torque values must be used as specified during reassembly to make sure correct retention of these parts.
NOTE:
This procedure must be carried out with the suspension at or near curb height.
With the vehicle in NEUTRAL, position it on a hoist. For additional information, refer to Section 100-02.
Remove the stabilizer bar link nut and bushings, stabilizer bar links and link spacers.

Discard the nut and bushings.
Remove and discard the stabilizer bar bracket bolts and remove the stabilizer bar brackets and stabilizer bar.
Inspect and, if necessary, install new stabilizer bar bushings.
Installation
NOTICE: Do not use any lubrication on the stabilizer bar or the bushings or damage to the bushings may occur.

NOTICE: To prevent bushing damage and incorrect stabilizer bar operation, the stabilizer bar bushings must be located correctly on the stabilizer bar. The protrusion on both bushings must be facing the LH side of the vehicle for correct installation.

If necessary, install the bushings onto the stabilizer bar.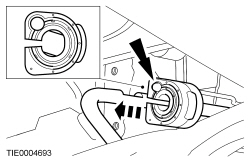 NOTE:

Apply water to the brackets to aid in installation.

Position the stabilizer bar and brackets and install the new bolts.

Tighten to 55 Nm (41 lb-ft).
Position the stabilizer bar links and spacers and install the new nut and bushings.

Tighten to 15 Nm (133 lb-in).
Special Tool(s) Remover, Tie-Rod End 211-001 (TOOL-3290-D) Item Part Number Description 1 W710091 Subframe front bolt (4 req ...