Ford Focus Service Manual: Strut and Spring Assembly - Disassembly and Assembly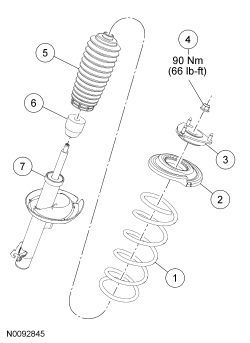 | Item | Part Number | Description |
| --- | --- | --- |
| 1 | 5310 | Spring |
| 2 | 18198 | Spring upper seat and bearing assembly |
| 3 | 3K155 | Upper mount bearing |
| 4 | W711949 | Strut rod nut |
| 5 | 18A047 | Dust boot |
| 6 | 3025 | Jounce bumper |
| 7 | W712503 | Strut |
Disassembly
NOTICE: Suspension fasteners are critical parts because they affect performance of vital components and systems and their failure can result in major service expense. A new part with the same part number must be installed if installation is necessary. Do not use a new part of lesser quality or substitute design. Torque values must be used as specified during reassembly to make sure of correct retention of these parts.
Remove the strut and spring assembly. For additional information, refer to Strut and Spring Assembly in this section.
WARNING: Keep
all body parts clear of shock absorbers or strut rods. Shock absorbers or struts can extend unassisted. Failure to follow this instruction may result in serious personal injury.

Using a suitable coil spring compressor, compress the spring.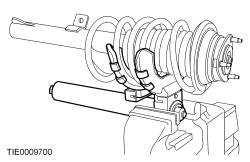 NOTE:

Use the hex-holding feature to prevent the strut rod from rotating while removing the nut.

Carefully remove and discard the strut rod nut.

To install, tighten the new nut to 90 Nm (66 lb-ft).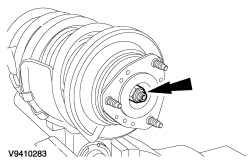 Remove the upper mount, spring upper seat and dust boot.
Remove the strut and jounce bumper.
Carefully remove the spring from the spring compressor.
NOTICE: Make sure the upper mount is correctly seated before assembly or damage to the upper mount may occur.

NOTICE: Make sure the spring is installed with the flat surface facing up and with the spring end correctly positioned against the spring seat (color code at the bottom). This is to prevent spring seat damage and incorrect spring position.

To assemble, reverse the disassembly procedure.
Item Part Number Description 1 W715135 Stabilizer bar link upper nut 2 18K001 LH/ 18045 RH Strut and spring assembly 3 W520102 ...
More about Ford Focus:
Ford Focus Auxiliary power sockets
CAUTION: If you use the socket when the engine is not running, the battery may discharge. Note: You can use the socket to power 12 volt appliances that have a maximum current rating of 10 Amperes. Use only Ford accessory connectors or connectors specified for use with SAE standard sockets ...