Ford Focus Service Manual: Transaxle Draining and Filling
Material
| Item | Specification |
| --- | --- |
| Motorcraft® Full Synthetic Manual Transmission Fluid XT-M5-QS | WSD-M2C200-C |
With the vehicle in NEUTRAL, position it on a hoist. For additional information, refer to Section 100-02.
Remove the drain plug and drain the transaxle.
Clean and install the drain plug.

Tighten to 35 Nm (26 lb-ft).
NOTE:

Before removing, clean the area around the filler plug.

Remove the fill plug.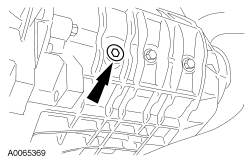 Using a suitable oil suction gun, fill the transaxle to the correct level with the specified fluid.

Transaxle fluid level: 0.0-5.0 mm (0.0-0.2 in) below the lower edge of the filler plug bore.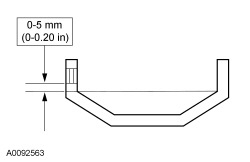 Install the fill plug.

Tighten to 35 Nm (26 lb-ft).
The 4F27E is a fully automatic, electronically controlled 4-speed transaxle designed for Front Wheel Drive (FWD) vehicles. Its abbreviated designation 4F27E means: 4 — 4-speed transmission ...
Material Item Specification Motorcraft® MERCON® LV Automatic Transmission Fluid XT-10-QLVC (US); CXT-10-LV12 (Canada) MERCON® LV Transaxle Filler Tube ...
More about Ford Focus:
Ford Focus Window Glass - Rear Quarter
Special Tool(s) Deluxe Windshield Removal Tool 164-R2450 or equivalent Pneumatic Knife with Offset Blade 107-R1511 or equivalent Material Item Specification Dow Urethane Adhesive Betaseal™ Express — ...