Ford Focus Service Manual: Transmission Fluid Pan
Material
| Item | Specification |
| --- | --- |
| Motorcraft® MERCON® LV Automatic Transmission Fluid XT-10-QLVC (US); CXT-10-LV12 (Canada) | MERCON® LV |
| Motorcraft® Metal Surface Prep ZC-31-A | — |
| Ultra Silicone Sealant TA-29 | — |
Transmission Fluid Pan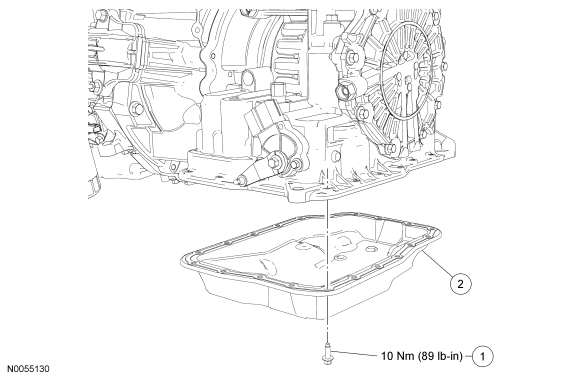 | Item | Part Number | Description |
| --- | --- | --- |
| 1 | W500213-S437 | Transmission fluid pan bolt (20 required) |
| 2 | 7A194 | Transmission fluid pan |
Removal
With the vehicle in NEUTRAL, position it on a hoist. For additional information, refer to Section 100-02.
NOTE:

The transmission fluid pan is filled with transmission fluid and cannot be drained before removing.

Remove the transmission fluid pan.

Using a suitable tool, separate the bead of sealer.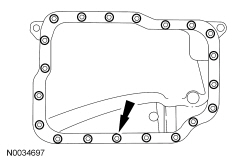 Clean the silicone from the transmission fluid pan and transaxle case surfaces thoroughly with metal surface prep.
Installation
NOTE:

Do not use more than the specified amount of sealer on the pan or internal transaxle damage could occur.

Apply a bead 1.5 mm (0.059 in) thick of sealer to the transmission fluid pan.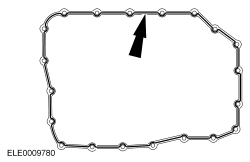 Install the transmission fluid pan.

Tighten to 10 Nm (89 lb-in).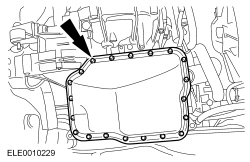 Lower the vehicle.
Fill the transaxle with clean transmission fluid.
Special Tool(s) Handle 205-153 (T80T-4000-W) Installer, Axle Oil Seal 205-259 (T87P-3254-A) Installer, Differential Bearing Cup ...
Special Tool(s) Compressor, Spring Washer 307-209 Dial Indicator Gauge With Holding Fixture 100-002 (TOOL-4201-C) Material Item ...
More about Ford Focus:
Ford Focus Changing a fuse
WARNINGS: Do not modify the electrical system of your vehicle in any way. Have repairs to the electrical system and the replacement of relays and high current fuses carried out by properly trained technicians. Switch the ignition and all electrical equipment off before touching or attem ...