Ford Focus Service Manual: Transmission Fluid Pan
Material
| Item | Specification |
| --- | --- |
| Motorcraft® MERCON® LV Automatic Transmission Fluid XT-10-QLVC (US); CXT-10-LV12 (Canada) | MERCON® LV |
| Motorcraft® Metal Surface Prep ZC-31-A | — |
| Ultra Silicone Sealant TA-29 | — |
Transmission Fluid Pan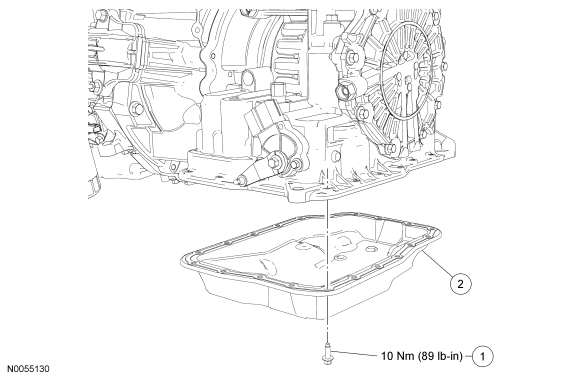 | Item | Part Number | Description |
| --- | --- | --- |
| 1 | W500213-S437 | Transmission fluid pan bolt (20 required) |
| 2 | 7A194 | Transmission fluid pan |
Removal
With the vehicle in NEUTRAL, position it on a hoist. For additional information, refer to Section 100-02.
NOTE:

The transmission fluid pan is filled with transmission fluid and cannot be drained before removing.

Remove the transmission fluid pan.

Using a suitable tool, separate the bead of sealer.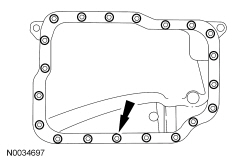 Clean the silicone from the transmission fluid pan and transaxle case surfaces thoroughly with metal surface prep.
Installation
NOTE:

Do not use more than the specified amount of sealer on the pan or internal transaxle damage could occur.

Apply a bead 1.5 mm (0.059 in) thick of sealer to the transmission fluid pan.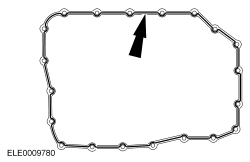 Install the transmission fluid pan.

Tighten to 10 Nm (89 lb-in).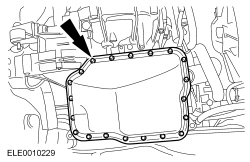 Lower the vehicle.
Fill the transaxle with clean transmission fluid.
Special Tool(s) Handle 205-153 (T80T-4000-W) Installer, Axle Oil Seal 205-259 (T87P-3254-A) Installer, Differential Bearing Cup ...
Special Tool(s) Compressor, Spring Washer 307-209 Dial Indicator Gauge With Holding Fixture 100-002 (TOOL-4201-C) Material Item ...
More about Ford Focus:
Ford Focus Ford PID List
Note: This is not a complete list of Ford PIDs available. This is a list of Ford PIDs in this manual. PID Description Ford Units AAT Ambient Air Temperature Degrees AAT_V Ambient Air Temperature Voltage Volts ACP_V A ...