Ford Focus Owners Manual: Getting started
CAUTION:
Using the system with the engine off will drain the battery.
Note: You will be charged when sending and receiving text messages.
Note: Refer to your phone handbook for all phone functions and operation.
Note: Keep the activation code (printed on the installation guide) in a safe place.
Note: Retain the activation text message in your mobile phone inbox.
Compatibility of phones
CAUTION:
As no common agreement exists, mobile phone manufacturers are able to implement a variety of profiles in their Bluetooth devices. Because of this, an incompatibility can occur between the phone and hands-free system, which in some cases may significantly degrade the system performance. To avoid this situation, only recommended phones should be used.
Please visit the website www.ford-mobile-connectivity.com for full details.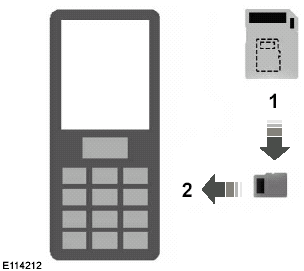 Installing the micro SD card
1. Remove the micro SD card from the adaptor.
2. Insert the micro SD card into the mobile phone.
Activating the mobile phone navigation system
Note: The radio must be switched on before connecting the mobile phone to the in-car GPS receiver.
Note: The Ford Mobile Navigation must be installed and activated on your mobile phone.
Note: It is possible to activate up to a maximum of three phones.
Note: Detailed instructions are available on the micro SD card and at www.ford-mobile-connectivity.com.
1. Switch the radio on.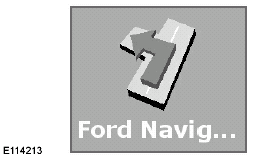 2. Switch your mobile phone on and start the "Ford Mobile Navigation".
3. Choose "Select Destination".
4. Choose "Enter Address".
5. Change route options if necessary and start the route guidance.
6. The vehicle display will show the turn information. Voice instructions are heard via the vehicle speakers.
Note: Your mobile phone will display your current position.
7. You are able to exit the application and continue your route guidance after restarting the application.