Ford Focus Owners Manual: Ignition switch
WARNING:
Never return the key to position 0 or I when the vehicle is in motion.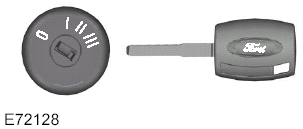 0 The ignition is off.
I The ignition and all main electrical circuits are disabled.
Note: Do not leave the ignition key in this position for too long to avoid discharging the battery.
II The ignition is switched on. All electrical circuits are operational. Warning lamps and indicators illuminate. This is the key position when driving. You must also select it when being towed.
III The starter motor is activated. Release the key as soon as the engine starts.