Ford Focus Owners Manual: Towing points
Towing eye location
The screw-in towing eye is located in the spare wheel well.
Insert your finger into the hole on the underside of the cover and prise off the cover. On vehicles with a body styling kit, insert your fingers into the hole in the bezel and pull off the complete bezel.
Install the towing eye.
The towing eye must always be carried in the vehicle.
CAUTION:
The screw-in towing eye has a left-hand thread. Turn it anti-clockwise to install it. Use the wheelbrace to make sure that the towing eye is fully tightened.
Note: On vehicles with a tow bar, the towing eye cannot be installed at the rear of the vehicle. Use the tow bar to tow a vehicle.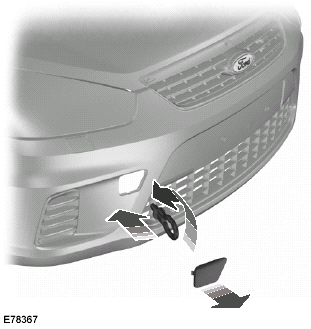 Front towing eye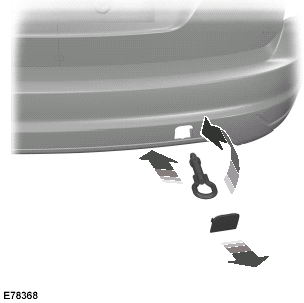 Rear towing eye