Ford Focus Service Manual: Air Conditioning (A_C) Clutch Air Gap Adjustment
Check the A/C clutch air gap at 3 equally spaced places between the clutch plate and the A/C clutch pulley.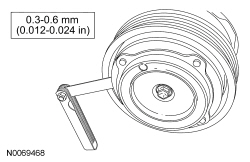 If the A/C clutch air gap is out of range, remove the clutch plate. Add or remove spacers between the clutch plate hub and the compressor shaft until the clearance is within specification.
Special Tool(s) A/C Flush Adapter Kit 219-00074 or equivalent A/C Flush and Purge Fitting Kit 219-00024 or equivalent Material It ...
Special Tool(s) Installer, A/C Clutch 412-136 Protector, A/C Compressor Shaft 412-137 Item Part Number Description ...
More about Ford Focus:
Ford Focus Valve Seat Width
NOTE: Refer to the appropriate Section 303-01 for the specification. Measure the valve seat width. If necessary, grind the valve seat to specification. Measure the intake valve seat width. Measure the exhaust valve seat width. Recheck the valve spring installed length ...