Ford Focus Service Manual: Heated Oxygen Sensor (HO2S)
Special Tool(s)
| | |
| --- | --- |
| | Socket, Exhaust Gas Oxygen Sensor 303-476 (T94P-9472-A) |
Material
| Item | Specification |
| --- | --- |
| High Temperature Nickel Anti-Seize Lubricant XL-2 | ESE-M12A4-A |
| Penetrating and Lock Lubricant (US); Penetrating Fluid (Canada) XL-1 (US); CXC-51-A (Canada) | — |
Removal and Installation
Disconnect the electrical connector and detach the wiring retainer.
NOTE:

If necessary, lubricate the sensor threads with penetrating and lock lubricant to assist in removal.

Using the Exhaust Gas Oxygen Sensor Socket, remove the Heated Oxygen Sensor (HO2S) .

Calculate the correct torque wrench setting for the following torque. Refer to the Torque Wrench Adapter Formulas in the Appendix.

To install, tighten to 48 Nm (35 lb-ft).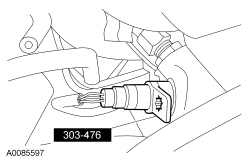 NOTICE: Make sure that the sensor wiring is routed away from hot surfaces and sharp edges or damage to the wiring may occur.

NOTE:

Apply a light coat of anti-seize lubricant to the threads of the HO2S .

NOTE:

Make sure that the electrical connector locking tab is engaged.

To install, reverse the removal procedure.
Special Tool(s) Socket, Exhaust Gas Oxygen Sensor 303-476 (T94P-9472-A) Material Item Specification High Temperature Nickel Anti-Seize Lubrica ...
Item Part Number Description 1 14A464 Mass Air Flow (MAF) sensor electrical connector 2 W709287 MAF sensor screw (2 required) 3 ...
More about Ford Focus:
Ford Focus Clutch Controls
The clutch hydraulic system consists of the following: Brake master cylinder reservoir Clutch master cylinder Clutch slave cylinder with an integral release bearing Upper hydraulic tube Lower hydraulic tube The clutch control system disengages the clutch when the clutch pedal is ...