Ford Focus Service Manual: Catalyst Monitor Sensor
Special Tool(s)
| | |
| --- | --- |
| | Socket, Exhaust Gas Oxygen Sensor 303-476 (T94P-9472-A) |
Material
| Item | Specification |
| --- | --- |
| High Temperature Nickel Anti-Seize Lubricant XL-2 | ESE-M12A4-A |
| Penetrating and Lock Lubricant (US); Penetrating Fluid (Canada) XL-1 (US); CXC-51-A (Canada) | — |
Removal and Installation
With the vehicle in NEUTRAL, position it on a hoist. For additional information, refer to Section 100-02.
Disconnect the electrical connector and detach the wiring retainer.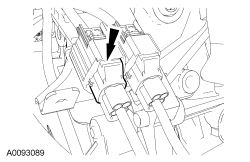 NOTE:

If necessary, lubricate the sensor threads with penetrating and lock lubricant to assist in removal.

Using the Exhaust Gas Oxygen Sensor Socket, remove the Catalyst Monitor Sensor (CMS) .

Calculate the correct torque wrench setting for the following torque. Refer to the Torque Wrench Adapter Formulas in the Appendix.

To install, tighten to 48 Nm (35 lb-ft).
NOTICE: Make sure that the sensor wiring is routed away from hot surfaces and sharp edges or damage to the wiring may occur.

NOTE:

Apply a light coat of anti-seize lubricant to the threads of the CMS .

NOTE:

Make sure that the electrical connector locking tab is engaged.

To install, reverse the removal procedure.
Item Part Number Description 1 W500025 Knock Sensor (KS) bolt 2 12A699 KS Removal and Installation Remove the intake manifold. F ...
Special Tool(s) Socket, Exhaust Gas Oxygen Sensor 303-476 (T94P-9472-A) Material Item Specification High Temperature Nickel Anti-Seize Lubrica ...
More about Ford Focus:
Ford Focus Fastening the seat belts
WARNING: Insert the tongue into the buckle until you hear a distinct click. You have not fastened the seat belt properly if you do not hear a click. Pull the belt out steadily. It may lock if you pull it sharply or if the vehicle is on a slope. Press the red button on the buckle to r ...