Ford Focus Service Manual: Parking Brake Control
| Item | Part Number | Description |
| --- | --- | --- |
| 1 | — | Parking brake switch electrical connector (part of 14A318) |
| 2 | — | Parking brake cable equalizer (part of 2A603) |
| 3 | 2853 | Parking brake cable |
| 4 | W706229 | Parking brake control bolt (3 required) |
| 5 | 2780 | Parking brake control |
| 6 | — | Parking brake cable adjustment nut (part of 2780) |
Removal and Installation
Remove the floor console. For additional information, refer to Section 501-12.
Release the parking brake.
Disconnect the electrical connector.
Loosen the parking brake cable adjustment nut to the end of the thread.
With the vehicle in NEUTRAL, position it on a hoist. For additional information, refer to Section 100-02.
NOTICE: Do not bend or twist the exhaust flexible pipe. Failure to follow these instructions may cause damage to the exhaust flexible pipe.

Support the exhaust flexible pipe with a support wrap or suitable splint.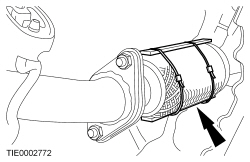 Position the exhaust tailpipe and muffler assembly aside.

Remove and discard the muffler flange nuts and gasket.

To install, tighten the new nuts to 47 Nm (35 lb-ft).

Disconnect the hanger isolators.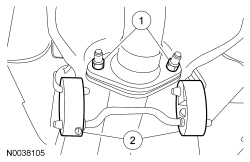 Remove the 4 nuts and the exhaust center heat shield.
Separate the parking brake cable from the equalizer and position the cable grommet up through the floor.
Remove the 3 parking brake control bolts and the parking brake control.

To install, tighten to 18 Nm (159 lb-in).
To install, reverse the removal procedure.

Adjust the parking brake. For additional information, refer to Parking Brake Cable Adjustment in this section.
The parking brake system consists of the following components: Parking brake control Parking brake cable equalizer Parking brake warning indicator switch Rear parking brake cables and co ...
More about Ford Focus:
Ford Focus Outer Constant Velocity (CV) Joint Boot
Special Tool(s) Installer, Constant Velocity Joint Boot Clamp 205-343 (T95P-3514-A) Material Item Specification Constant Velocity Joint Grease (High Temperature) XG-5 WSS-M1C258-A1 Removal Remove the inner CV joint boot. F ...