Ford Focus Service Manual: Piston Inspection - Engine System
Special Tool(s)
| | |
| --- | --- |
| | Scraper, Piston Ring Groove 303-D033 (D81L-6002-D) or equivalent |
NOTICE: Do not use a caustic cleaning solution or a wire brush to clean the pistons or damage can occur.
Clean and inspect the (1) ring lands, (2) skirts, (3) pin bosses and the (4) tops of the pistons. If wear marks, scores or glazing is found on the piston skirt, check for a bent or twisted connecting rod.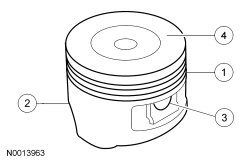 Use the Piston Ring Groove Scraper to clean the piston ring grooves.

Make sure the oil ring holes are clean.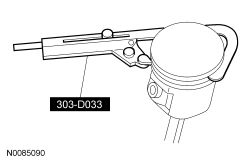 NOTE: Refer to the appropriate Section 303-01 for the specification. Measure the piston diameter 90 degrees from the piston pin and 42 mm (1.65 in) down from the top of the piston at the poin ...
NOTE: The cylinder bore must be within the specifications for taper and out-of-round before fitting a piston. Select a piston size based on the cylinder bore. NOTE: For precision ...
More about Ford Focus:
Ford Focus Changing a bulb
WARNINGS: Switch the lights and the ignition off. Let the bulb cool down before removing it. We recommend that you ask your dealer to change the bulbs if your vehicle is fitted with Xenon headlamps. There is a risk of injury due to high voltage. CAUTIONS: Do not touch the glass of ...