Ford Focus Service Manual: Piston Inspection - Engine System
Special Tool(s)
| | |
| --- | --- |
| | Scraper, Piston Ring Groove 303-D033 (D81L-6002-D) or equivalent |
NOTICE: Do not use a caustic cleaning solution or a wire brush to clean the pistons or damage can occur.
Clean and inspect the (1) ring lands, (2) skirts, (3) pin bosses and the (4) tops of the pistons. If wear marks, scores or glazing is found on the piston skirt, check for a bent or twisted connecting rod.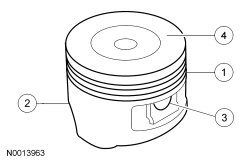 Use the Piston Ring Groove Scraper to clean the piston ring grooves.

Make sure the oil ring holes are clean.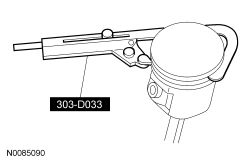 NOTE: Refer to the appropriate Section 303-01 for the specification. Measure the piston diameter 90 degrees from the piston pin and 42 mm (1.65 in) down from the top of the piston at the poin ...
NOTE: The cylinder bore must be within the specifications for taper and out-of-round before fitting a piston. Select a piston size based on the cylinder bore. NOTE: For precision ...
More about Ford Focus:
Ford Focus Fuel System Pressure Release
WARNING: Do not smoke, carry lighted tobacco or have an open flame of any type when working on or near any fuel-related component. Highly flammable mixtures are always present and may be ignited. Failure to follow these instructions may result in serious personal injury. WARNING: Do not ...