Ford Focus Service Manual: Piston Diameter - Engine System
NOTE:
Refer to the appropriate Section 303-01 for the specification.
Measure the piston diameter 90 degrees from the piston pin and 42 mm (1.65 in) down from the top of the piston at the point indicated.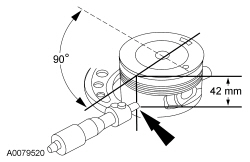 Material Item Specification Motorcraft® SAE 5W-20 Premium Synthetic Blend Motor Oil (US); Motorcraft® SAE 5W-20 Super Premium Motor Oil (Canada) XO-5W20-QSP (US); CXO- ...
Special Tool(s) Scraper, Piston Ring Groove 303-D033 (D81L-6002-D) or equivalent NOTICE: Do not use a caustic cleaning solution or a wire brush to clean the pistons ...
More about Ford Focus:
Ford Focus Safety Belt Procedure After a Collision
WARNING: After any crash, all of the following safety belt assemblies and attaching hardware must be inspected to verify correct function: Retractors Buckles Belt tension sensor (BTS) (if equipped) Front safety belt buckle support assemblies (slide bar) (if equipped) Safety belt s ...