Ford Focus Owners Manual: Roof racks and load carriers
Roof rack
WARNINGS:
Do not fit a roof rack to vehicles with a convertible top.
If you use a roof rack, the fuel consumption of your vehicle will be higher and you may experience different driving characteristics.
Read and follow the manufacturer's instructions when you are fitting a roof rack.
CAUTION:
Do not exceed the maximum permissible roof load of 75 kilogrammes (165 pounds) (including the roof rack).
Check the security of the roof rack and tighten its fittings as follows:
• before starting.
• after driving 50 kilometres (30 miles).
• at 1 000 kilometres (600 miles) intervals.
Installing the crossbars
WARNING:
Distribute the load evenly over the loading area and keep the centre of gravity as low as possible. Secure the load well to prevent it from slipping.
Never place any loads directly onto the roof surface.
CAUTION:
Remove the crossbars before entering an automatic car wash.
Note: The side mounting tracks are designed such that crossbars (for bicycle carriers, ski carriers etc.) from the Ford accessories range can be fitted.
Note: Before installing the crossbars, clean the side mounting tracks with water and a sponge.
Note: Position the crossbars as shown.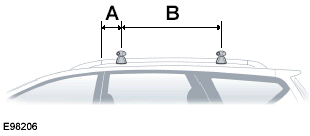 95 mm A 800 mm B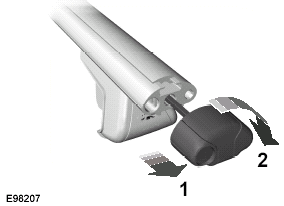 1. Pull the handle out.
2. Turn the handle clockwise to bring the crossbar in contact with the rail.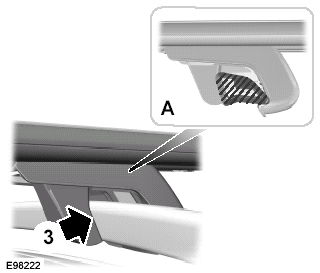 Note: Make sure there is no gap between crossbar and rail (A).
3. Turn the handle a minimum of 3.5 revolutions.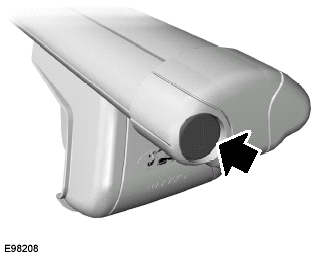 4. Push the handle in. Turn the key clockwise to lock.
5. Remove the key.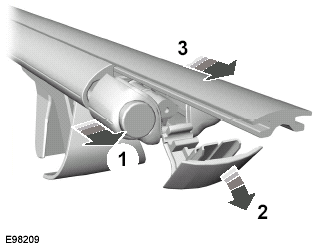 Accessing the T-notch
1. Pull the handle out.
2. Lower the cover.
3. Remove the sliding bar.