Ford Focus Service Manual: Sprockets
Inspect the sprockets for cracks and worn or chipped teeth.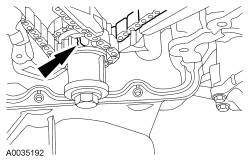 NOTE: Refer to the appropriate section and procedure for special instructions on loosening and tightening mount fasteners. With the vehicle in NEUTRAL, position it on a hoist. For additional in ...
Inspect the following valve areas: The end of the stem for grooves or scoring. The valve face and the edge for pits, grooves or scores. The valve head for signs of burning ...
More about Ford Focus:
Ford Focus Brake Flexible Hose
Material Item Specification High Performance DOT 3 Motor Vehicle Brake Fluid PM-1-C (US); CPM-1-C (Canada) WSS-M6C62-A or WSS-M6C65-A1 Item Part Number Description 1 W712276 Brake caliper flow bolt 2 — ...