Ford Focus Service Manual: Valve Stem Diameter
NOTE:
Refer to the appropriate Section 303-01 for the specification.
Measure the diameter of each intake and exhaust valve stem at the points shown. Verify the diameter is within specification.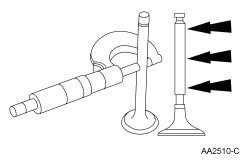 Inspect the following valve areas: The end of the stem for grooves or scoring. The valve face and the edge for pits, grooves or scores. The valve head for signs of burning ...
More about Ford Focus:
Ford Focus Wiper Mounting Arm and Pivot Shaft
Removal and Installation Remove the cowl panel grille. For additional information, refer to Section 501-02. Remove the cowl panel support brace. Disconnect the windshield wiper motor electrical connector. Remove the 3 bolts and the wiper mounting arm ...