Ford Focus Service Manual: Valve Guide Inner Diameter
NOTE:
Refer to the appropriate Section 303-01 for the specification.
NOTE:

Valve guides tend to wear in an hourglass pattern. The ball gauge can be inserted into the combustion chamber side of the valve guide, if necessary.

Use a ball gauge to determine the inside diameter of the valve guides in 2 directions at the top, middle and bottom of the valve guide.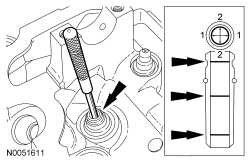 Measure the ball gauge with a micrometer.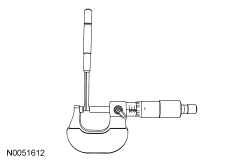 If the valve guide is not within specifications, install a new cylinder head assembly.
Special Tool(s) Compressor, Valve Spring 303-300 (T87C-6565-A) Compressor, Valve Spring 303-350 (T89P-6565-A) Compressor, Val ...
More about Ford Focus:
Ford Focus General information
CAUTION: Using the system with the engine off will drain the battery. This section describes the functions and features of the Bluetooth mobile phone hands free system. The Bluetooth mobile phone part of the system provides interaction with the audio or navigation system and your mobile ...