Ford Focus Service Manual: Valve Stem Diameter - Engine System - General Information
NOTE:
Refer to the appropriate Section 303-01 for the specification.
Measure the diameter of each intake and exhaust valve stem at the points shown. Verify the diameter is within specification.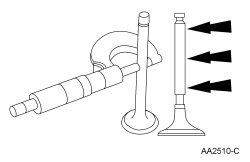 Special Tool(s) Clearance Gauge, Valve Guide 303-004 (TOOL-6505-E) or equivalent Dial Indicator Gauge with Holding Fixture 100-002 (TOOL-4201-C) or e ...
More about Ford Focus:
Ford Focus Wheel Spindle
Item Part Number Description 1 4A492 Wheel spindle 2 W704332 Wheel spindle bolt (4 required) 3 W500012 Wheel speed sensor bolt 4 — Brake tube fitting Removal NOTICE: Suspension fasteners are crit ...