Ford Focus Service Manual: Valve Stem Diameter - Engine System - General Information
NOTE:
Refer to the appropriate Section 303-01 for the specification.
Measure the diameter of each intake and exhaust valve stem at the points shown. Verify the diameter is within specification.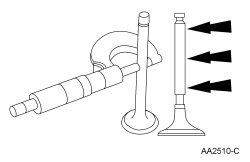 Special Tool(s) Clearance Gauge, Valve Guide 303-004 (TOOL-6505-E) or equivalent Dial Indicator Gauge with Holding Fixture 100-002 (TOOL-4201-C) or e ...
More about Ford Focus:
Ford Focus Ford PID List
Note: This is not a complete list of Ford PIDs available. This is a list of Ford PIDs in this manual. PID Description Ford Units AAT Ambient Air Temperature Degrees AAT_V Ambient Air Temperature Voltage Volts ACP_V A ...