Ford Focus Service Manual: Main Components and Functions
Overview of Construction and Function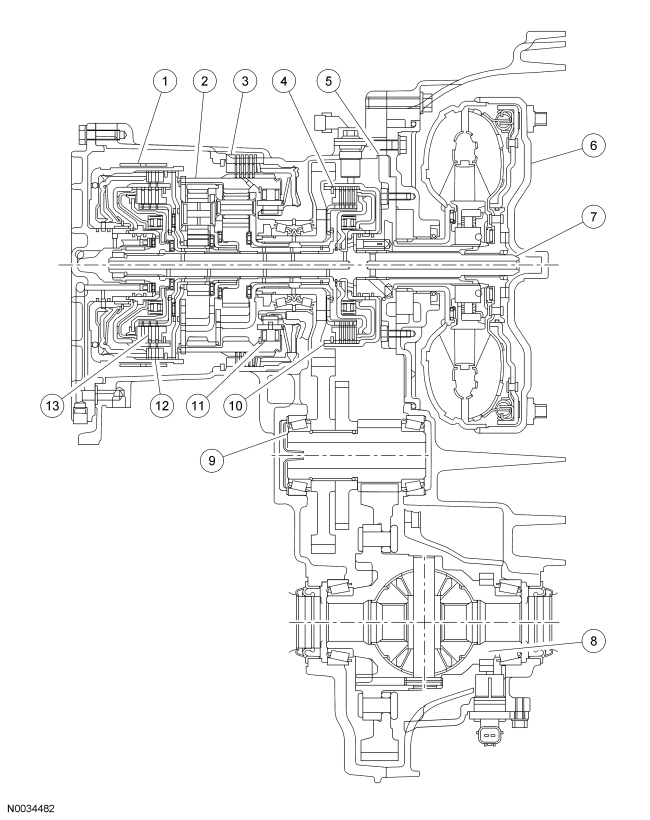 | Item | Description |
| --- | --- |
| 1 | Intermediate/Overdrive (O/D) band |
| 2 | Front ring gear planetary gear sets |
| 3 | Low/reverse clutch |
| 4 | Forward clutch |
| 5 | Pump and stator support |
| 6 | Torque converter |
| 7 | Transmission input shaft |
| 8 | Differential |
| 9 | Transfer shaft assembly |
| 10 | Final drive input gear |
| 11 | Low One-Way Clutch (OWC) |
| 12 | Reverse clutch |
| 13 | Direct clutch |
Planetary Gear Sets
The individual gears are shifted by means of 2 planetary gear sets, connected one behind the other.
Clutches and Bands
The individual ratios are selected by means of 4 multi-plate clutches, a brake band and a roller One-Way Clutch (OWC) .
The components are controlled by the PCM through Pulse-Width Modulation (PWM) solenoid valves.