Ford Focus Owners Manual: Using the parking aid
WARNING:
The parking aid does not relieve you of your responsibility to drive with due care and attention.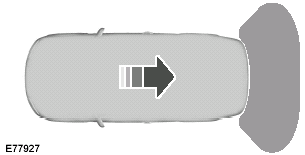 The parking aid is automatically activated when you select reverse gear with the ignition switched on.
You will hear an intermittent tone at a distance of approximately 150 centimetres (59 inches) between the obstacle and rear bumper and 50 centimetres (20 inches) to the side.
Decreasing the distance accelerates the intermittent tone. A continuous tone will start at a distance of less than 30 centimetres (12 inches) to the rear bumper.
Note: If a high pitch tone is heard for three seconds, this indicates a malfunction. The system will be disabled.
Have the system checked by a properly trained technician.
Convertible only
CAUTION:
Do not open the convertible top in confined spaces. This could cause damage to the luggage compartment lid. See Convertible top.
When you operate the convertible roof you will hear a continuous tone if obstacles are closer than 30 centimetres (12 inches) to the rear bumper.