Ford Focus Owners Manual: Using the rear view camera
WARNINGS:
The operation of the camera may vary depending on the ambient temperature, vehicle and road conditions.
The distances shown in the display may differ from the actual distance.
Do not place objects in front of the camera.
The camera is located on the luggage compartment lid near the handle.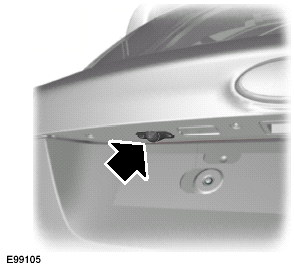 Activating the rear view camera
CAUTION:
The camera may not detect objects that are close to the vehicle.
With the ignition and the audio unit switched on, engage reverse gear. The image is displayed on the screen.
The camera may not operate correctly in the following conditions:
• Dark areas.
• Intense light.
• If the ambient temperature increases or decreases rapidly.
• If the camera is wet, for example in rain or high humidity.
• If the camera's view is obstructed, for example by mud.
Using the display
CAUTIONS:
Obstacles above the camera position will not be shown. Inspect the area behind your vehicle if necessary.
Marks are for general guidance only, and are calculated for vehicles in maximum load conditions on an even road surface.
The lines show a projected vehicle path (based on the current steering wheel angle) and the distance from the exterior mirrors and rear bumper.

Exterior mirror clearance - 0.1 metre (4 inches) A Red - 0.3 metre (12 inches) B Yellow - 1 metre (39 inches) C Yellow - 2 metres (79 inches) D
The green line shows the centre line of the projected vehicle path.
Note: When reversing with a trailer, the lines on the screen show the vehicle direction and not the trailer.
Deactivating the rear view camera
Note: Disengage reverse gear. The display will stay on for a short period before switching off.
The system will automatically switch off once the vehicle speed has reached approximately 15 km/h (9 mph).
Vehicles with parking aid
The display will additionally show a coloured distance bar. This guide indicates the distance from the rear bumper to the detected obstacle.
These are colour coded as follows:
• Green - 0.8 to 1.5 metres (31 to 59 inches).
• Yellow - 0.3 to 0.8 metre (12 to 31 inches).
• Red - 0.3 metre (12 inches) or less.