Ford Focus Service Manual: C-Lock Coupler
Disconnect
NOTICE: To prevent damage to the coupler, do not use hand tools to disconnect/connect the C-lock coupler.
NOTE:
Do not remove the lock ring from the C-lock coupler.
NOTE:

Hold the female side of the coupler at the hose connection to prevent the coupler from rotating internally.

Gently twist the lock ring until the ring has rotated approximately 90 degrees.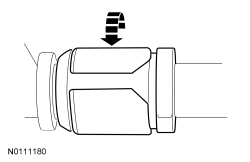 NOTICE: The female side of the C-lock coupler contains an o-ring seal. Use care not to lose the o-ring.

Slide the C-lock coupler apart from the component fitting.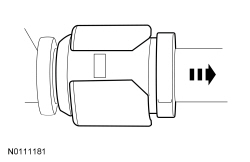 NOTICE: Do not leave the lock ring in the unlocked position. This will weaken the lock ring and will prevent it from correctly locking in place when reassembled, resulting in a leak.

Rotate the lock ring back to the original locked position.
Connect
Verify the C-lock coupler lock ring is in the locked position.
NOTE:

The lock ring flexes open slightly to allow the male fitting to enter the C-lock coupler.

NOTE:

The lock ring can be heard as it snaps into the lock position.

Insert the male fitting into the C-lock coupler.
Gently pull on the C-lock coupler to verify the coupler is seated correctly.
All functions are initiated by means of a wiper/washer switch (part of the multifunction switch), which is operated by the wiper lever on the left-hand side of the steering column. Windshield Wi ...
More about Ford Focus:
Ford Focus Rear window wiper and washers
Intermittent wipe Pull the lever towards the steering wheel. Reverse gear wipe The rear wiper will be activated automatically when selecting reverse gear if: • the rear wiper is not already switched on, • the wiper lever is in position A, B, C or D and • the front wiper is operating ...