Ford Focus Service Manual: Output Shaft Speed (OSS) Sensor
Material
| Item | Specification |
| --- | --- |
| Motorcraft® MERCON® LV Automatic Transmission Fluid XT-10-QLVC (US); CXT-10-LV12 (Canada) | MERCON® LV |
Output Shaft Speed (OSS) Sensor
| Item | Part Number | Description |
| --- | --- | --- |
| 1 | W500214-S439 | Bolt |
| 2 | 7H103 | Output Shaft Speed (OSS) sensor |
| 3 | W706315-S300 | O-ring |
Removal
With the vehicle in NEUTRAL, position it on a hoist. For additional information, refer to Section 100-02.
Place a drain pan beneath the Output Shaft Speed (OSS) sensor.
Remove the OSS sensor.

Disconnect the electrical connector.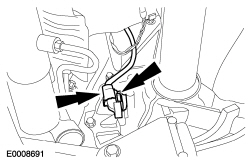 Inspect the O-ring seal for nicks or cuts; install a new O-ring if necessary.
Installation
NOTE:

Apply a light coat of clean transmission fluid to the O-ring before installation.

Install the OSS sensor.

Tighten to 10 Nm (89 lb-in).

Connect the electrical connector.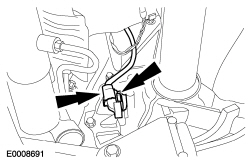 Lower vehicle.
Check the transmission fluid level and add transmission fluid as necessary.
Start the engine and move the transaxle range selector lever through all gear positions.
NOTE: If it is necessary to use the brake shift interlock override procedure to move the selector lever out of the PARK position, it is possible that a fuse has blown and the brake lights are not ...
More about Ford Focus:
Ford Focus General information
WARNING: Do not operate the information display controls when the vehicle is moving. Note: The information display will remain on for several minutes after you switch off the ignition. Various systems on your vehicle can be controlled using the multi-function lever on the steering column. ...