Ford Focus Service Manual: Output Shaft Speed (OSS) Sensor
Material
| Item | Specification |
| --- | --- |
| Motorcraft® MERCON® LV Automatic Transmission Fluid XT-10-QLVC (US); CXT-10-LV12 (Canada) | MERCON® LV |
Output Shaft Speed (OSS) Sensor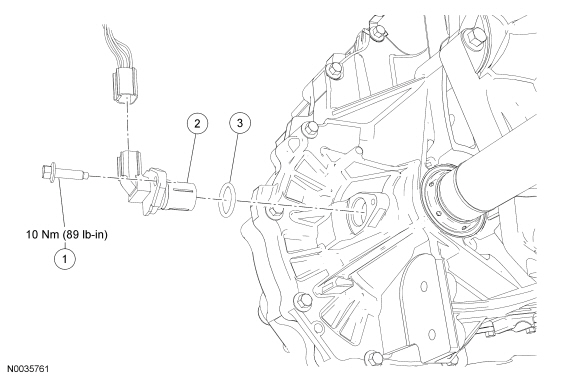 | Item | Part Number | Description |
| --- | --- | --- |
| 1 | W500214-S439 | Bolt |
| 2 | 7H103 | Output Shaft Speed (OSS) sensor |
| 3 | W706315-S300 | O-ring |
Removal
With the vehicle in NEUTRAL, position it on a hoist. For additional information, refer to Section 100-02.
Place a drain pan beneath the Output Shaft Speed (OSS) sensor.
Remove the OSS sensor.

Disconnect the electrical connector.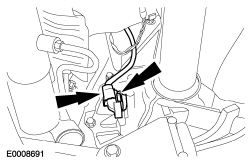 Inspect the O-ring seal for nicks or cuts; install a new O-ring if necessary.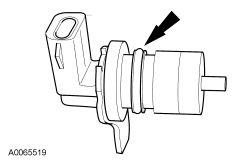 Installation
NOTE:

Apply a light coat of clean transmission fluid to the O-ring before installation.

Install the OSS sensor.

Tighten to 10 Nm (89 lb-in).

Connect the electrical connector.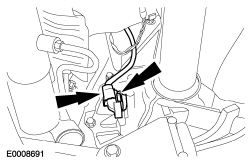 Lower vehicle.
Check the transmission fluid level and add transmission fluid as necessary.
Start the engine and move the transaxle range selector lever through all gear positions.
Special Tool(s) Adapter Set, Step Plate 205-DS011 (D80L-630-A) Remover, Bearing/Gear 205-D064 (D84L-1123-A) Remover/Installer, ...
Special Tool(s) Handle, Torque Converter 307-091 (T81P-7902-C) Holding Tool, Final Drive Input Gear 307-413 Mounting Bracket, T ...
More about Ford Focus:
Ford Focus Principle of operation
WARNING: The parking aid does not relieve you of your responsibility to drive with due care and attention. CAUTIONS: Vehicles fitted with a trailer tow module not approved by us may not correctly detect obstacles. The sensors may not detect objects in heavy rain or other conditions th ...