Ford Focus Service Manual: Window Glass - Rear Door
Material
Item
Specification
Seam Sealer
TA-2
—
Removal and Installation
Remove the rear door speaker. For additional information, refer to Section 415-00.
NOTE:

Do not touch the adhesive surface during removal or installation of the watershield, as re-bonding will be impaired. If additional adhesive is required during installation, apply seam sealer as necessary to completely seal the watershield to the inner door.

Remove the watershield.
Loosen the screws, slide the door glass top run retainer up, and remove the door glass top run retainer.
Temporarily install the window control switch or the window regulator handle to raise or lower the window to align the regulator clamp with the access hole.
Push out the pin and then push out the sleeve of the 2-part spacer.
Supporting the glass, lower the glass and regulator to the lowest position.
Position the lower part of the door glass top run outside the door.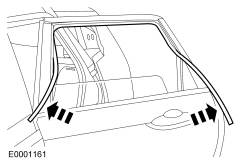 NOTE:

To aid removal of the door glass, stand on the inner side of the door. Make sure the glass is removed from the inside of the door.

Remove the window glass.
To install, reverse the removal procedure.
Material Item Specification Seam Sealer TA-2 — Removal and Installation Remove the front door speaker. For additional information, refer to Section ...
Item Part Number Description 1 6320898 RH/ 6320899 LH Window moulding — front door 2 20124-5 Front door Item ...
More about Ford Focus:
Ford Focus Universal Transmitter Programming - General Procedures
Universal Transmitter Programming (Fixed Code) — Early Build (Homelink®) NOTE: A new battery in the hand-held transmitter may allow quicker and easier training due to a more accurate transmission of the radio frequency signal. NOTE: This procedure is for early build vehicles only. Ve ...