Ford Focus Service Manual: Window Glass - Front Door
Material
Item
Specification
Seam Sealer
TA-2
—
Removal and Installation
Remove the front door speaker. For additional information, refer to Section 415-00.
NOTE:

Do not touch the adhesive surface during removal or installation of the watershield, as re-bonding will be impaired. If additional adhesive is required during installation, apply seam sealer as necessary to completely seal the watershield to the inner door.

Remove the watershield.
Temporarily install the window control switch or the window regulator handle to raise or lower the window to access the glass clamp bolts.
Loosen the 2 door window glass clamp bolts.

To install, tighten to 8 Nm (71 lb-in).
Tape the window in position, then lower the window regulator downward until it reaches the stops at the bottom of the regulator tracks.
Remove the window glass.

Lift the glass.

Tip the glass forward and remove the glass from the front of the door.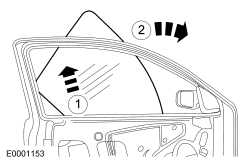 To install, reverse the removal procedure.
NOTE: RH shown, LH similar. Item Part Number Description 1 W712191 Side impact sensor bolts 2 — Side impact sensor electrical connector (p ...
Material Item Specification Seam Sealer TA-2 — Removal and Installation Remove the rear door speaker. For additional information, refer to Section ...
More about Ford Focus:
Ford Focus Rollover bars
Rollover bars WARNINGS: Keep the areas around the rollover bar covers free from obstruction. Do not attempt to reset the rollover protection system if it deploys. The rollover protection system comprises: • two inverted U-shaped bars. • rollover sensors. The rollover bars will ...