Ford Focus Service Manual: Steering Gear Boot
Special Tool(s)


Boot Clamp Pliers
205-D067 (D87P-1098-A) or equivalent
Material
| Item | Specification |
| --- | --- |
| Premium Long-Life Grease XG-1-C or XG-1-K (US); CXG-1-C (Canada) | ESA-M1C75-B |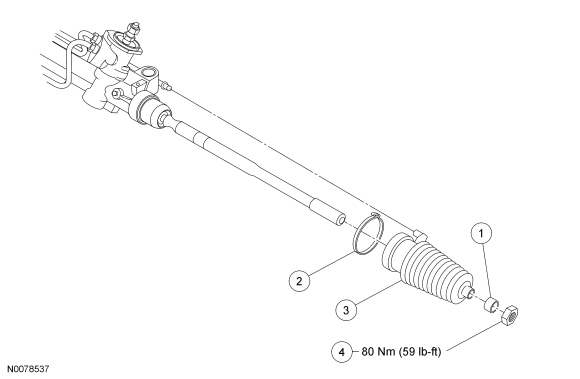 | Item | Part Number | Description |
| --- | --- | --- |
| 1 | 3C650 | Outer bellows boot clamp (part of boot kit 3K661) |
| 2 | 3K662 | Inner bellows boot clamp (part of boot kit 3K661) |
| 3 | 3K661 | Steering gear bellows boot (part of boot kit 3K661) |
| 4 | W713882 | Tie-rod jam nut |
Removal and Installation
NOTICE: The steering gear boots and clamps are designed to produce an airtight seal and protect the internal components of the steering gear. If the seal is not airtight, the vacuum generated during turning will draw water and contamination into the gear, causing damage. Zip ties do not provide an airtight seal and must not be used.
NOTICE: The inner tie-rod ball joint grease is not compatible with water. Water trapped in the grease will damage the joint.
Remove the outer tie-rod end. For additional information, refer to Tie Rod — Outer in this section.
Remove the tie-rod jam nut from the inner tie rod.
Remove the steering gear bellows boot.

Remove and discard the clamps.

Disconnect the vent tube.

Remove the boot.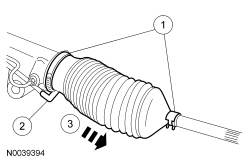 NOTICE: Make sure the boot is correctly aligned with the vent tube and the raised alignment mark on the steering gear. Incorrect venting may lead to internal steering gear component damage.

NOTE:

Right side shown, left side similar.

NOTE:

To prevent the boot from twisting during toe adjustment, apply the specified grease to the groove in the tie rod and uniformly to the inner diameter of the boot.

NOTE:

Make sure the tie rod is clean before installing the boot.

Position the steering gear bellows boot onto the inner tie rod.
NOTE:

Install new inner and outer bellows boot clamps.

To install, reverse the removal procedure.

Use the Boot Clamp Pliers to tighten the new inner bellows boot clamp.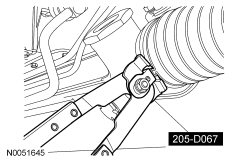 Check and, if necessary, adjust the front toe. For additional information, refer to Section 204-00.
Special Tool(s) Remover, Tie-Rod End 211-001 (Tool-3290-D) Material Item Specification MERCON® V Automatic Transmission Fluid XT-5-QM (or ...
More about Ford Focus:
Ford Focus Brake Fluid Reservoir
Material Item Specification High Performance DOT 3 Motor Vehicle Brake Fluid PM-1-C (US); CPM-1-C (Canada) WSS-M6C62-A or WSS-M6C65-A1 Item Part Number Description 1 — Brake fluid reservoir filler cap electrical conne ...