Ford Focus Service Manual: Wiper Mounting Arm and Pivot Shaft
Removal and Installation
Remove the cowl panel grille. For additional information, refer to Section 501-02.
Remove the cowl panel support brace.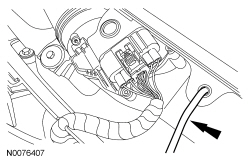 Disconnect the windshield wiper motor electrical connector.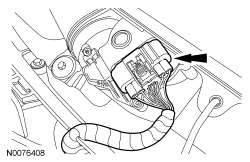 Remove the 3 bolts and the wiper mounting arm and pivot shaft assembly.

To install, tighten to 8 Nm (71 lb-in).
To install, reverse the removal procedure.
Material Item Specification Premium Quality Windshield Washer Fluid (Canada) CXC-37-(A, B, D, and F) (Canada) — Premium Windshield Washer Concentrate (US) ...
Removal and Installation Lift up the covers and loosen the wiper pivot arm nuts approximately 2 turns. Lift the wiper pivot arms and release them from the taper by moving them to one ...